President Qiu Yong visits IIIS
December 25,2015 Source: Tsinghua News Views: 0
(By Shuai Sun) Tsinghua President Qiu Yong paid a visit to IIIS on Dec. 23, 2015, and spoke with members of teachers and students on the development of scientific research, talent cultivation and team building. Prof. Andrew Chi-Chih Yao, Turing Award Winner and Dean of IIIS, hosted the meeting.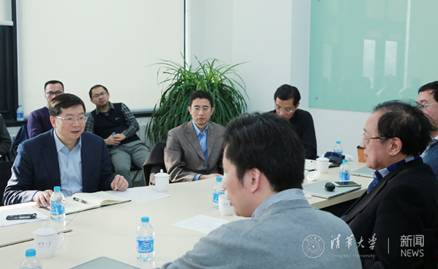 Three assistant professors from IIIS, Huang Longbo, Tang Pingzhong and Xu Wei, presented the introduction to the scientific research development and talent cultivation in their research areas including smart grid, computational economics, big data and artificial intelligence.
Prof. Duan Luming, Enrico Fermi Collegiate Professor at University of Michigan and CC Yao Professor at Tsinghua University, reported IIIS research on quantum computation.
President Qiu Yong highly recognized the achievement on IIIS scientific research, talent cultivation and team building, and also paid tribute to Prof. Yao for his efforts and devotion in the academic development and talent cultivation at Tsinghua in the past several years.
In the future, President Qiu Yong said, the university would provide full support to the institute development, discipline construction and scientific research, and is expecting greater achievement on talent cultivation and academic research.
President Qiu Yong also visited Micro-nano Lab, Diamond Defect Spin Lab, and superconducting Quantum Computing Lab.