IIIS Development Fund Unveiled
April 25,2016 Views: 0
IIIS Development Fund was unveiled at the Lecture Hall, FIT Building on the afternoon of April 23, 2016, with the presence of Bin Yang, Tsinghua Vice President & Chairman of Tsinghua University Education Foundation, Andrew Chi-Chih Yao, IIIS Dean and Songjian Li, Chairman of Ming Yuan Group. At the ceremony, they addressed to a large gathering of faculty, students, alumni and representatives from Tsinghua University Education Foundation attending the ceremony.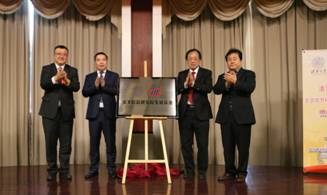 In his address, Mr. Songjian Li extended his sincere congratulations on the unveiling of the Fund. "Ming Yuan Group has been investing in education for 30 years", he said, "and we hope that this Development Fund can lead to more cooperation between Ming Yuan Group and Tsinghua University in the transformation of scientific achievements in future."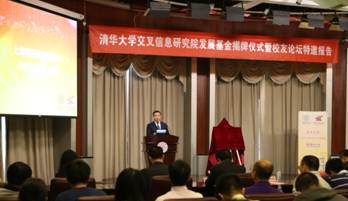 Prof. Yao introduced the background of setting up the fund and appreciated the generous offer of Min Yuan Group. He said: "IIIS Development Fund was established in 2012 and received the first donation in September then. It's encouraging to see the research and teaching at IIIS benefit a lot from this fund in the past three years".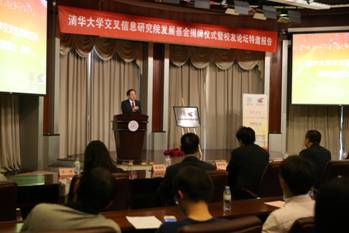 Vice President Bin Yang congratulated IIIS for the unveiling of the fund and said: "The University is most grateful to all the enterprises like Ming Yuan Group for their support and donation." He also expressed that the University would provide IIIS with access to more recourses that would help and support the institute's development.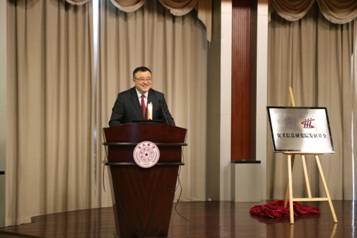 The plague-unveiling ceremony was also attended by Peidong Xu, Vice-President of China Federation of Literary and Art Circles and Jiaqiang Li, Secretary-General of Tsinghua University Education Foundation. Following the ceremony, a guided tour of the Clean Room at CQI was arranged for the guests from Ming Yuan Group.
IIIS Development Fund was established in 2012 and receives donations from alumni and other sources home and abroad. It provides support for the relative academic fields as well as investment in the development of the institute, and support for collaborations within the institute and outside.
(By Yuying Chang, photo by Xiang Li)